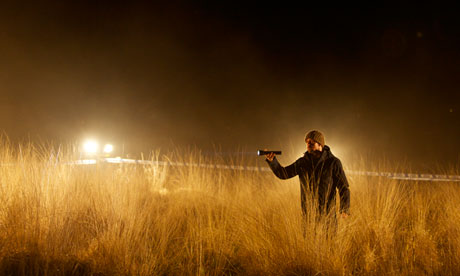 We have no shortage of folklore/mythology based series coming to our TV screen in the near future. Supernatural returns for its ninth season of contemporary folklore antics, and we have BBC's Atlantis to look forward to at the end of the month. In 2014, however, BBC Four and BBC Wales will begin airing one of the most promising folklore-tinged shows: Hinterland.
Set in the green and isolated heart of Aberystwyth, Wales, this new detective show promises to become a vehicle for old traditional Welsh yarns, doing what Scandinavian dramas have done for Norse mythology.
The premier episode features Devil's Bridge Falls, a gorge with three bridges. The first bridge was built in the 11th century by, according to local legend, the Devil himself. The story goes that a wily old woman met the Devil when he was coming to Wales for the first time, having caught wind of its breathtaking scenery. The woman's cow had wandered across the river and she couldn't get it back, so the Devil, being the nice guy that he is, told her that he will build a bridge to the other side but on one condition: he must keep the first living thing to cross the bridge. The woman agreed.
The next day she went with her trusty dog to the river where, lo and behold, there was a brand spanking new bridge. The Devil said to the women, "now it's time to honour your side of the bargain". The woman began walking towards the bridge but quickly pulled out a piece of bread and threw it onto the bridge. Her dog chased after it, much to the Devil's dismay, becoming the first living thing to cross the bridge. The Devil was pissed that he was outfoxed by an elderly woman so he vanished, never to return to Wales again.
The location Hinterland is set in couldn't be more barren and beautiful, the perfect place for legends to cultivate. The noir drama promises to be atmospheric and will play out in four feature-length episodes.
Hinterland/Y Gwyll airs in S4C in October and BBC Four in 2014.